Searching for a different way to unwind? Trying to forget about the pace and commotion of everyday life, yet at the same time create an original artwork full of contrasts that will uplift any space? Learn how to decorate your home beautifully with our dotting technique, but doesn't require any special creative ability! Sound good? Read on!

To put it frankly, dots have had a significant influence on a variety of artists over the years, from those working in the impressionist and pointillist movements, native-folk arts, to those creating contemporary art today.
Classical artists such as Georges Seurat and Claude Monet are well-known, and many countries adopt analogous painting styles in their folk, or native, art. Stone mandalas are one example. Contemporary artists like Yayoi Kusama, Jorna Newberry, and Miguel Endara all have distinctive styles, yet they are all connected through the use of dots or points.
DottingPoints was created as a modern and creative approach to bring you closer to the masters of this craft and give you the opportunity to create a work of art similar to theirs.
Think it's too challenging? Think again. No matter your skill level, time constraints, or experience, DottingPoints is for you.
If you choose this path, you'll discover it couldn't be simpler - merely pick your favourite motif, which will be supplied to you in the form of a canvas, either stretched over a frame or not, and a felt-tip pen to go along with it.
Which motif should I pick?
We have many themes available to you. Anything ranging from floral pictures, to abstract, to certain characters, the choice is yours. However, if this is your first time, it might be worth taking into consideration your confidence, and perhaps pick accordingly. Pick a project that won't be too difficult and won't take too long so you can develop a feel for the art. Once you're more confident, pick something more daring and challenging!
Before you conclude that you have read everything, let us remind you that if none of the themes in our collection strike your fancy - you can send us a photo of your own, and we will transform it into a blank template for you to fill in with dots. A truly one-of-a-kind memento to keep or gift. Intrigued?
What steps should I take?
Setting aside some time and a setting where you may unwind and enjoy this activity are essential. Grab the felt-tip pen and begin filling in the circles that make up the painting's template. The main goal is to use a coloured felt-tip pen to fill circles of varying sizes on the pre-printed canvas. In certain spots, a simple dot may suffice, but for bigger circles, colouring is required. Although it requires a little patience, the outcome is certainly worth it.
Before you begin, you can take a look at our step-by-step instructions and check out the contents of your DottingPoints kit.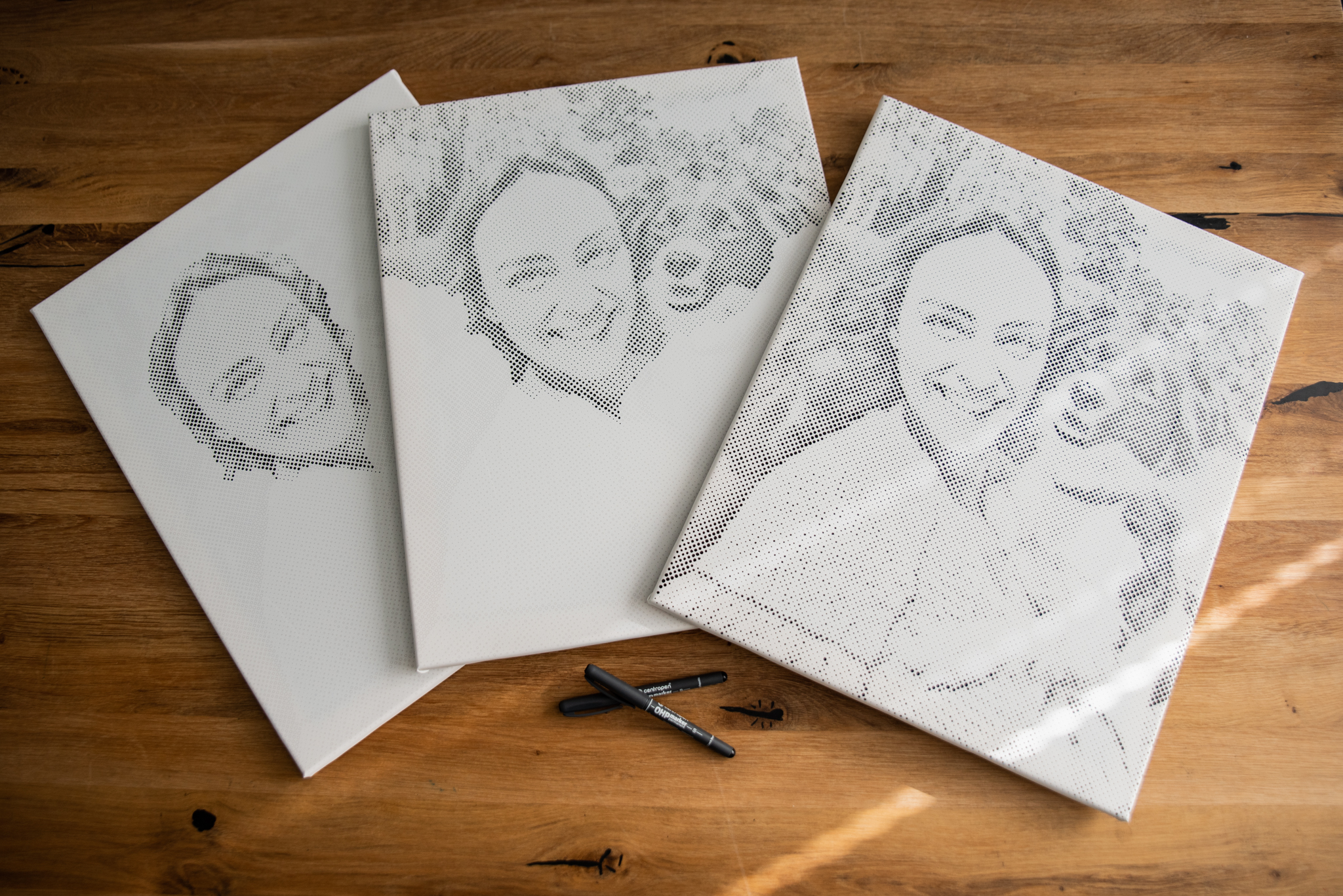 Children's developmental activities? Dotting!
Dotting will allow you to have a fantastic time, unwind, and, at the very least, temporarily escape the stresses of daily life. Dotting is sure to captivate even antsy kids, who can use it to develop their fine motor skills and increase their focus and patience while successfully completing the activity!
Dotting presents
An unusual present idea that works for any occasion and all ages is a piece of art made using the dotting technique. Concerned about what to present loved ones or friends for Christmas, weddings, or birthdays? Create a picture with the DottingPoints technique that is bound to surprise and excite the recipient or gift the kit itself and leave the recipient to immerse himself in this creative activity on his own.
Why love our DOTTINGPOINTS

?
It is a one-of-a-kind product available only in Europe.

All of

the paintings are manufactured in the EU.

Even for young children, dotting paintings may be a creative, fun, and stress-relieving exercise.

The ultimate result is a striking contrast-filled artwork for which no prior creative expertise or talent is required.

It's an excellent way to elegantly decorate your home and draw everyone's eye.

It is a unique, wonderful present that is reasonably priced!