The size of the colour palette matters.
Do you know how to recognise a quality picture for painting by numbers? One of the more reliable indicators, is in the number of colours in their palette. You want to see a finished picture with a large quantity of colours, shades of colours, showing the closest resemblance to the detail of the original photo. Wouldn't it be nice to properly capture those moments from your life? Here, learn why we are the best on the market.
WE HAVE 700 COLOURS IN OUR PALETTE – 3x more than others.

This means that we can guarantee you a finished painting, one that will be as similar as possible to the original photograph. We are able to capture all the nuances and complexities that the colour shades throw at us.

At the start, during production at PaintingFromPhoto.com, we tried to work with a smaller palette of around 250 colours. However, it just was not possible to create painting-by-numbers with a quality that we would be satisfied with. At first glance, it may seem that there are enough colours, but actually the opposite is true: Quality painting-by-numbers paintings, as per your own photo, with such a limited palette just cannot be done.
The number of colours in our palette varies depending on what shades we manage to produce, but we never get below 700 different colours.
We usually have up to three times more colours than our competitors, and that makes for a very noticeable difference! See it for yourself with every stroke of your paintbrush!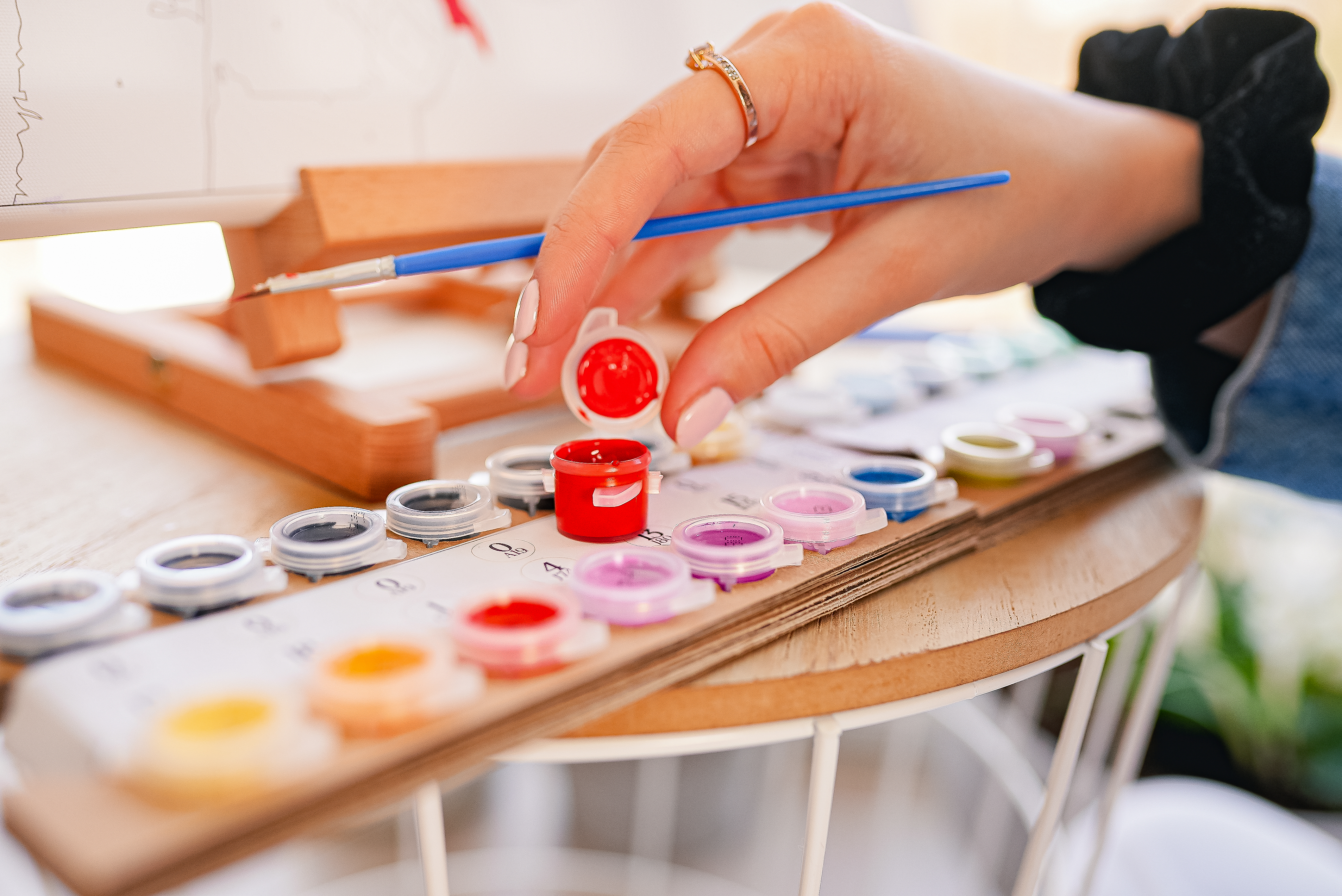 A wide palette of colours ensures the best results on the market with paintings-by-numbers.
CZECH PRODUCTION
At PaintingFromPhoto.com, we do things our own way and do not rely on suppliers from abroad. Our software has been written to convert motifs and photographs into a template for painting-by-numbers; and the production of acrylic paints, which we use for the paintings, is also made by ourselves. We also create our own motifs. We are completely self-sufficient and unique in our field of business, and not just only on the Czech market.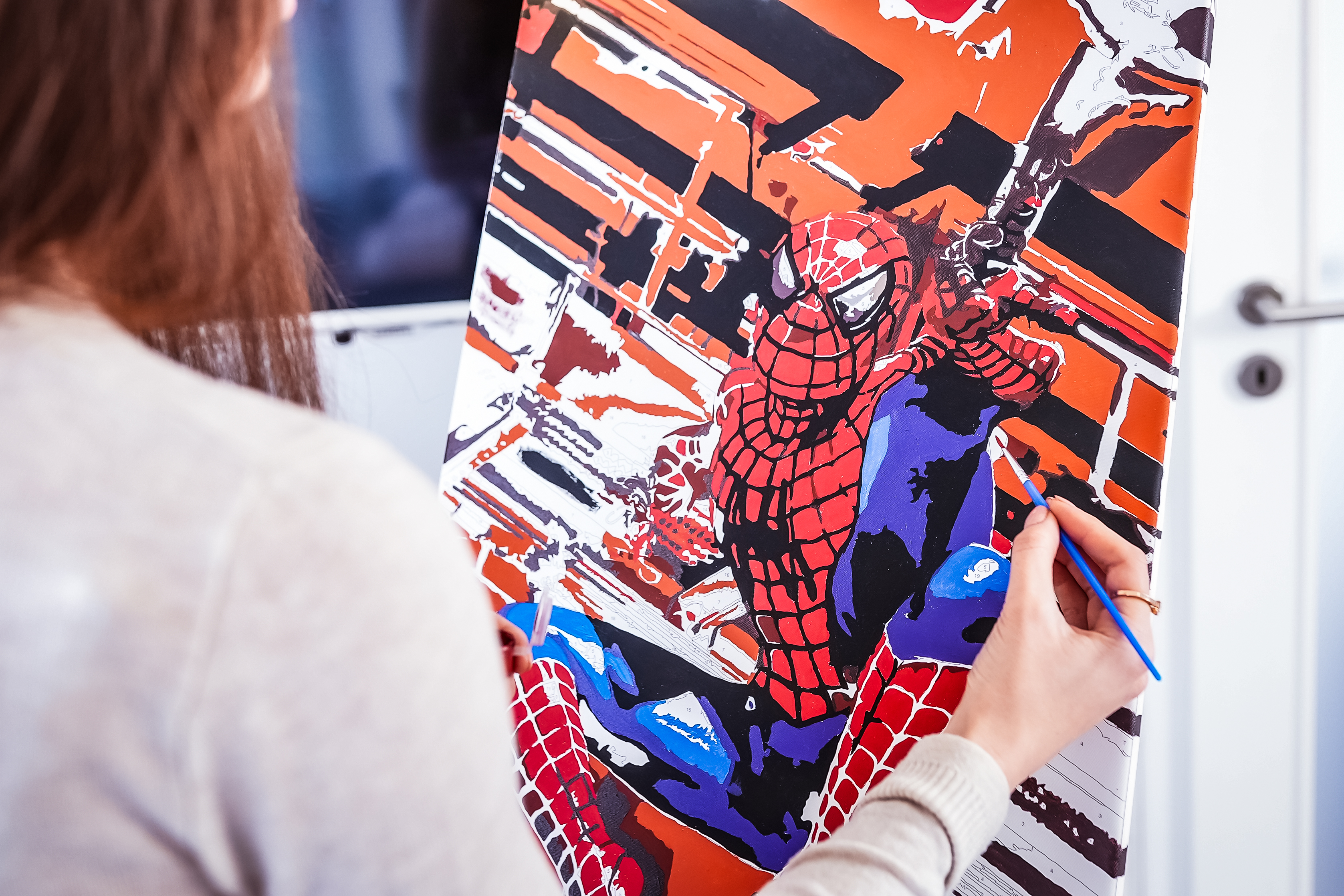 At PaintingFromPhoto.com you will find hundreds of original motifs for painting.
Why is it so important to us? From our experience, the market for painting-by-numbers generally involves two types of goods, which European retailers use and resell on to their customers.
Chinese production for painting-by-numbers
Chinese manufacturers usually have over 500 colours in their palettes, so their canvases have a certain quality, but they are also typically sold without frames, so you get a rolled-up painting. The disadvantage of that, for the European customer, is the long delivery time from China; and in those times of increasing demand, such as at Christmas or the traditional Chinese New Year celebrations in February, the delivery time is significantly longer and exceeds 40 days. Another unpleasant obstacle to making an order from them, is the new legislation (in effect from July 2021 ) which specifies the need to pay additional VAT, thus adding on more hassle.
TIP! Do you want to know how to recognise an e-shop that is selling goods from China? When, for example, a selected shop does not allow you to order painting-by-numbers, as per your own photo, with a delivery time of 14 days.
Latvian production for painting-by-numbers
The disadvantage of production from the Latvian-Russian franchise company, is the significantly limited palette of colours that the company's got to work with - there are only 243. Another disadvantage of the Latvian franchise is the fact that their paintings have already likely been painted by dozens, or even hundreds of other painters in other countries, so originality is certainly not a factor here.
TIP! How to recognize a graphic design, or painting, of Latvian-Russian origin? All the images have a characteristic colour designation, formed of a letter and a number - for example J1, W2, &3, and etc.
WE CREATE GRAPHIC DESIGNS ON OUR OWN
If you want to order an image based on your own photo, we'll send you the graphic design for approval, before sending off the order. This will show you what the resulting image will look like, after painting it yourself. We create graphic designs directly from the photos you have sent to us, so that we can provide quality and individual service. This way, should you not be satisfied with the design, you will have the opportunity to change your photograph free of charge. We favour a personal approach, and one-on-one customer service to guarantee our customers' satisfaction.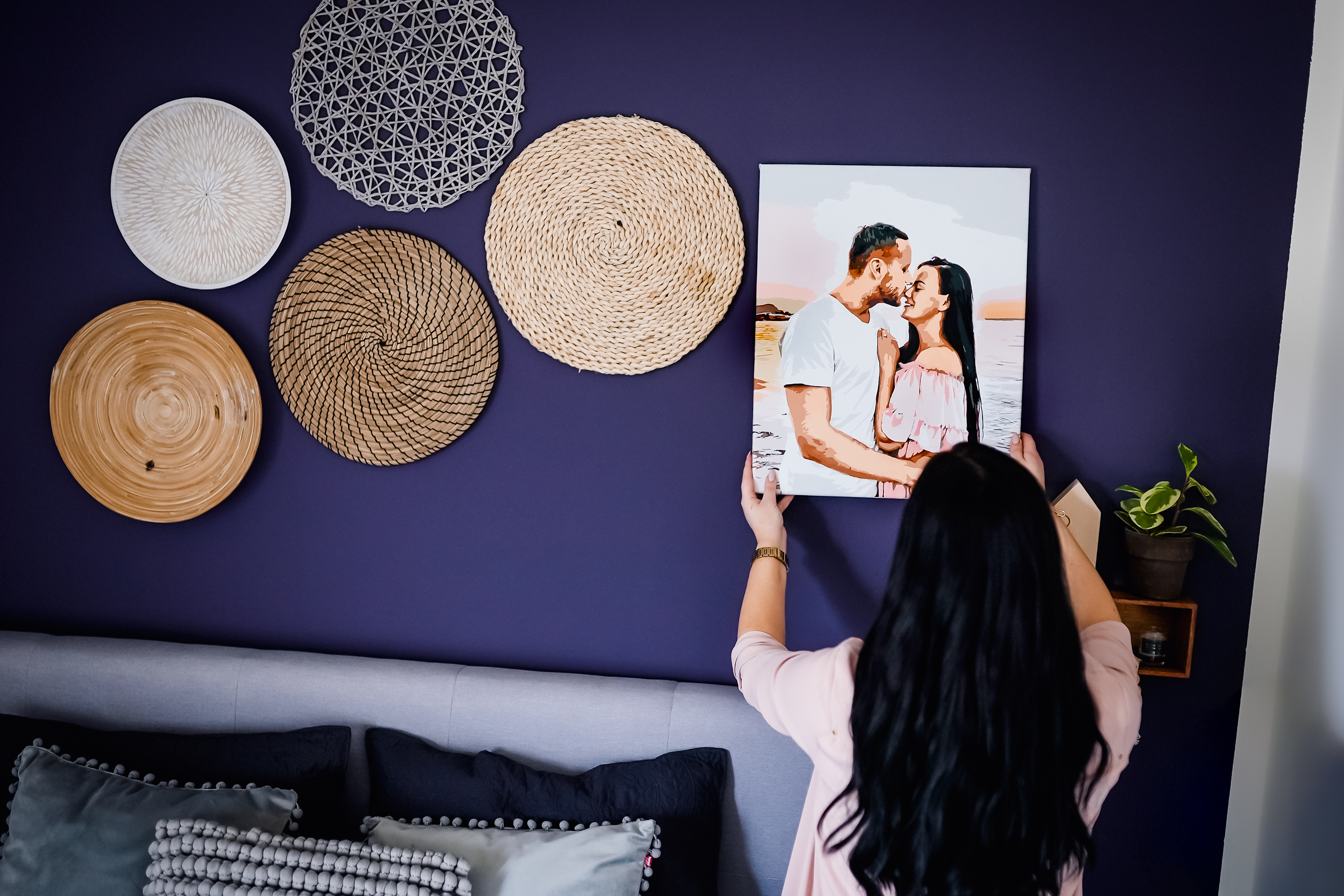 Thanks to the graphic design from us, you will have a clear idea of ​​what the result will look like.
EXCEPTIONAL PRINT QUALITY
Do you know how print quality is measured? It is measured through the so-called DPI – meaning dots per inch, or the number of pixels per line with a length of 2.54 cm. Magazines and most companies producing painting-by-numbers keep the print quality at 300 DPI. We believe that the numbers and lines, printed on canvas, are one of the most basic prerequisites for you to be able to really enjoy our painting-by-numbers; hence why we prepare all of our materials in 600 DPI quality.
What does this mean for you? You'll be able to read our canvases far better than other brand canvases. Even our smallest numbered areas are beautifully visible thanks to this exceptional print quality. You can compare the pictures and judge for yourself here:

1) An example of an average, typically printed and marked areas, on canvas for painting-by-numbers.
2) An example of our printed, marked, boxes for painting-by-numbers.
WE MEASURE COLOURS WITH A SPECTROPHOTOMETER

Before storing, we use a professional spectrophotometer to measure colours. It helps us avoid making mistakes, working our way round such a huge palette of colours. It helps prevent us from sending you a colour that doesn't match our graphic design.
And what do you - customers - say about our colour palettes? Read a few reviews from painters who have already tried our paintings!
"Definitely no one has to worry about it, it's not complicated at all, just a bit fiddly. But that's because I chose grass as a background, and so I have 10 shades of green here. Prepare time for work, you can't rush it, and between applying individual colours it's good to wait for it to dry. But any mistake can be repainted over. The result will be worth it."

"Excellent communication, speed and processing."

"Amazing colours."

"I'm already painting the second picture, as per my own photo, and I'm very excited. It's an addiction and you'll be attracted to it like a magnet!!!"

"Beautiful picture, very high-quality workmanship. We look forward to seeing the result."

"Very fast and professional communication, including giving advice (suitability of the photo) in advance."

"I haven't started painting yet, but according to the pre-printed template, I think the picture will be great."

"The sent photo was not in sufficient quality and the gentleman communicated with me very willingly and patiently. It was only when I managed to send a good-quality photo, a design was developed, which went into production only after my approval. The canvas(with the printed image) came, it was very well made and we are very much looking forward on the reaction of the beneficiary, and the final result after painting. "

"I am very satisfied with the purchase. Before the purchase itself, I was provided with the necessary information. A superb and helpful approach. The very first graphic design was as I imagined. It was definitely not the last purchase."

"The picture surprised me, the painting will look like real life."

"I highly recommend this store. You can only wish there were more of these."