So you have your kit, what now?
Getting started
Prepare a clean work area with everything from your kit: the numbered canvas, paints, brushes, and a bowl of water.
Each used brush must be washed so that no paint remains in it and so it does not harden.
If you have ordered a canvas on the frame, you can start painting immediately.
Did you choose a canvas without a frame? It will come rolled up and before you start coloring, you would ideally stretch it on your own canvas.
Approaching the canvas:
Based on personal preference, we recommend either:
starting with one color until you have painted all the relevant boxes
or working your way from top to bottom.
Advantage of top to bottom being that you'll gradually see your piece come together & you won't be smudging undried parts of the paint with your hand.
When painting with this technique, you will have to alternate and wash the brushes more often, so consider your approach & choose what best suites you!
Paint here & there; everywhere!
Your kit comes with brushes of three different sizes - be sure to use smaller tips for smaller fields & larger for the big areas.
Numbers or outlines still visible? Apply another layer, you have more than enough color for each piece.
Used the wrong color? Let it dry and then repaint it with the right one. The colors cover well, so you won't know anything.
It's not necessary to mix colors with each other. (Each cup contains the specific shade of color you need for your piece.)
Neither dilute them with water. (A few drops of water won't hurt if the paint is too thick.)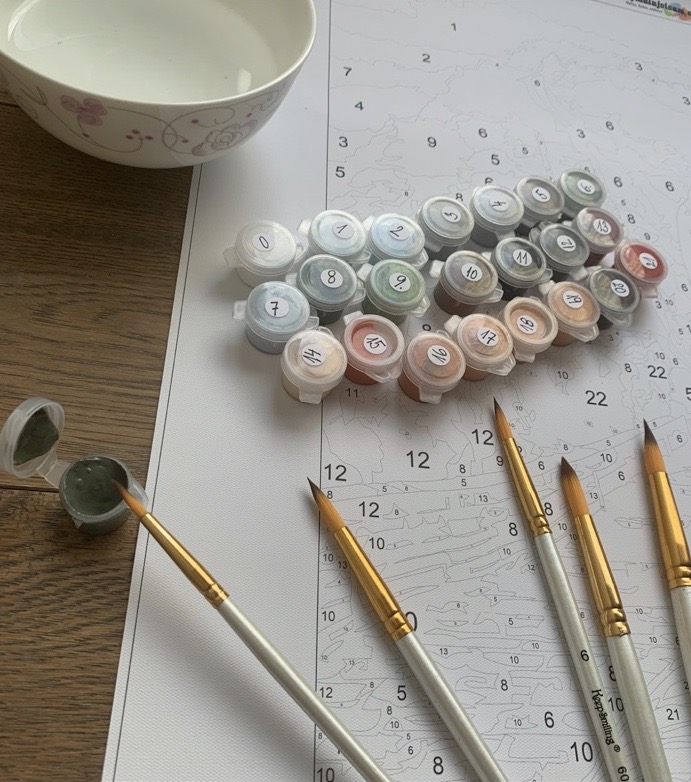 .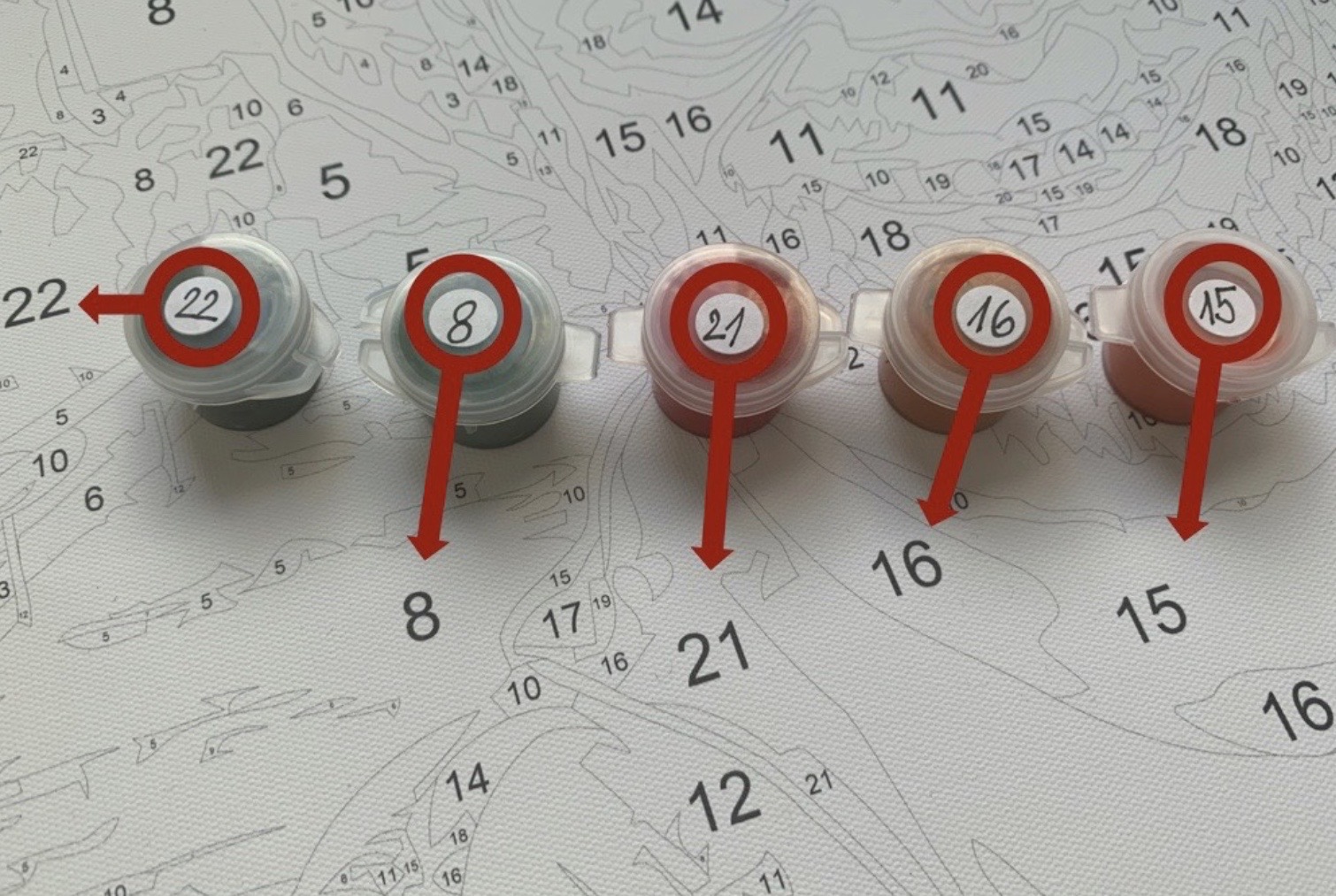 Final considerations
Once you are finished with the painting, always close the paint cups thoroughly to prevent them from drying out.
Did any color run out or dry out? Don't worry, we have all the colors in stock! Just contact us and order the shade of the color.
For a clean and perfect result don't forget to wash brushes thoroughly when changing colors
And don't get in a panic! We have provided a paper template for you to use as a guide (or legend). It should help you identify where goes what. And if you have any further questions, please, feel free to get in touch!
Enjoy your painting and let the fun begin!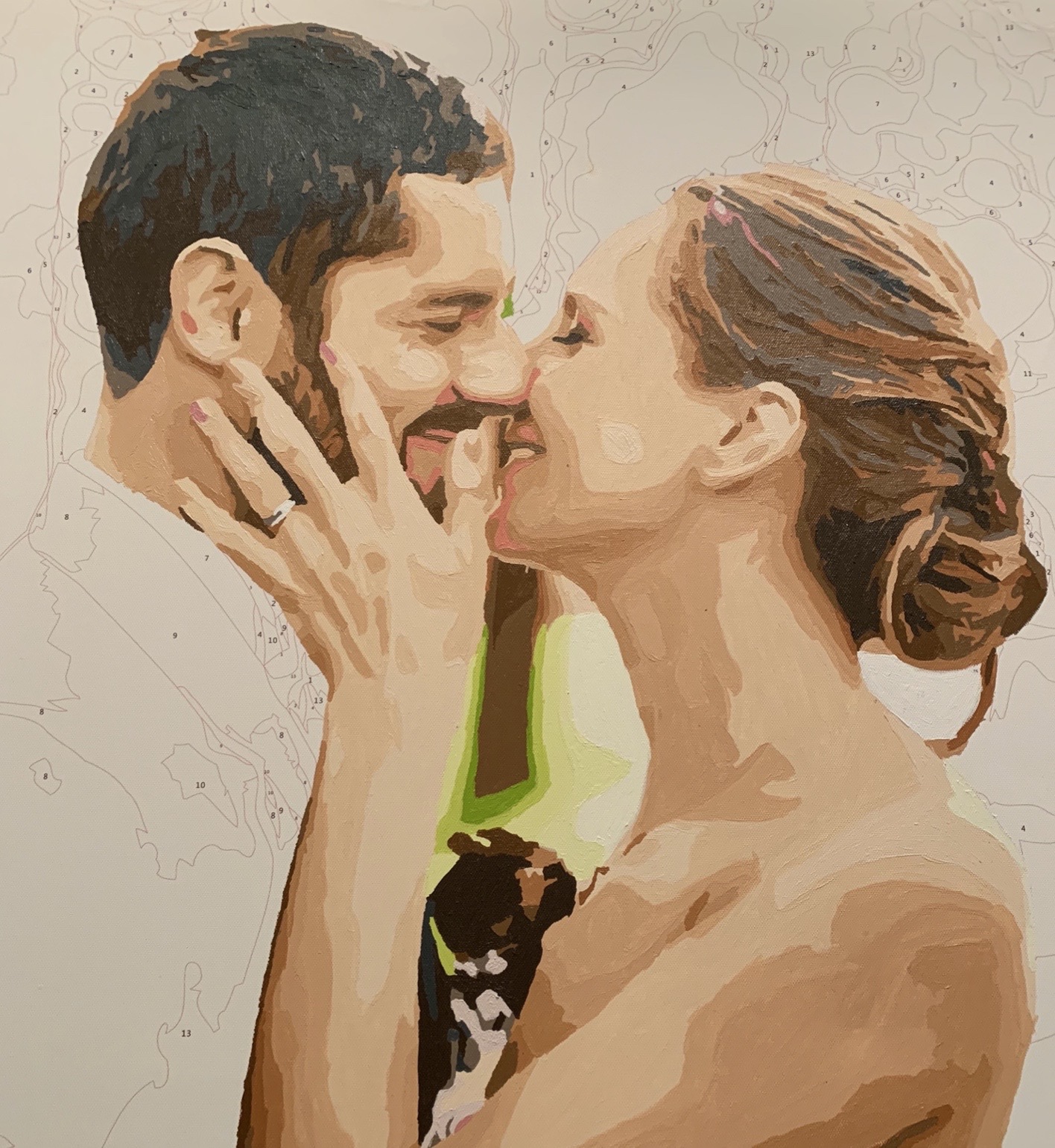 .